Andrew Tate is an American-British kickboxer, entrepreneur, and social media personality with a net worth of $50 million. Some people, especially his fans, insist that his net worth is in the range of $300-400 million. After a moderately successful kickboxing career, Andrew launched a career as a media personality. He was a contestant on the 17th season of the British version of Big Brother before being removed due to a controversial video of him allegedly hitting a girl with a belt. Today, he is known for operating controversial social media accounts that promote a misogynist lifestyle. Many of his social media accounts have been banned.
Table of Contents
Early Life
Emory Andrew Tate III was born in Chicago, Illinois, in December 1986. His mother Eileen is a white British woman. His late father, Emory Tate II, was a black American who was an international chess master. In addition to Andrew, Emory and Eileen had two other children, including a younger son named Tristan. The family lived in Illinois and Indiana until Eileen and Emory subsequently divorced. After their divorce, Eileen and the children moved to England.
Fighting Career
In 2005, at the age of 19, Andrew began kickboxing professionally as a cruiserweight out of his mother's hometown of Luton, England. By late 2008, he was ranked as one of the top 10 kickboxers in Britain by the International Sport Kickboxing Association (ISKA). In 2009, Andrew Tate won the ISKA English Full-Contact Cruiserweight Championship and the IKF British Cruiserweight Championship. In 2011, he was the ISKA World Full-Contact Light Heavyweight Champion, and in 2012, he was the Enfusion: Trial of the Gladiators Tournament Runner-Up. Tate was the ISKA World Full-Contact Light Cruiserweight Champion in 2013 and the Enfusion Live World Champion in 2014. In 2010, he had his only professional MMA match.
Big Brother
In 2016, Andrew joined the cast of the British reality TV show "Big Brother." He was a cast member on the show's 17th season. His stint on the show did not last long. Almost immediately after the show began airing, old Tweets that were perceived as racist were highlighted on social media. After just six days on the show, Andrew was removed from the cast after a video was released that allegedly showed him beating a woman with a belt. The woman would later confirm that the actions in the video were consensual.
Hustler's University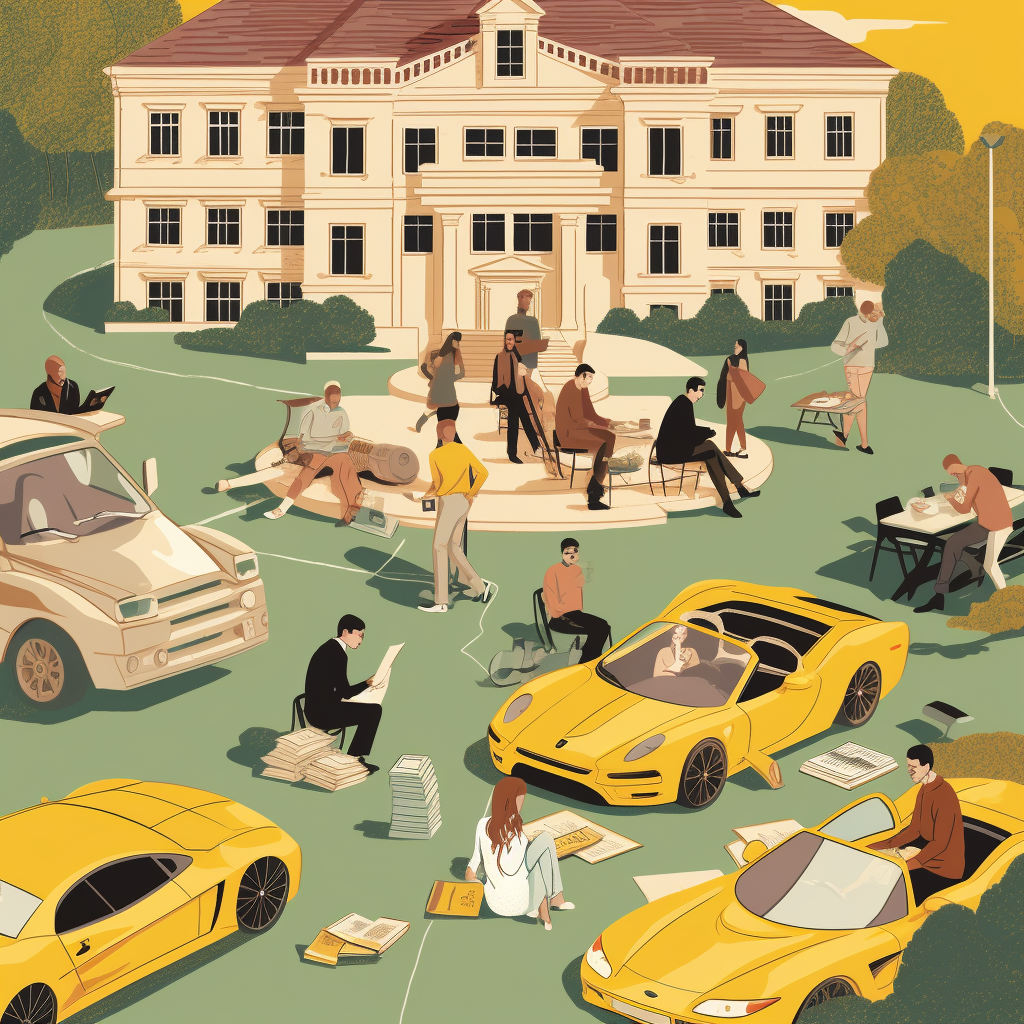 In recent years, Andrew has fashioned himself as an extremely masculine, misogynist, men's self-help guru. He operates an online subscription business called "Hustler's University," which gives men advice on how to treat women and be more manly. Videos from Hustler's University's social media posts became extremely viral on platforms such as TikTok and Instagram. Hustler's University reportedly has over 100,000 subscribers paying $49.99 per month. If that subscriber number is accurate, that would equate to around $5 million in monthly revenue for the business.
Social Media Bans
Andrew Tate's fame peaked in late 2022 when some of the world's largest social media platforms, including Instagram, Facebook, YouTube, and TikTok, banned Tate from their respective platforms. His Twitter account had been banned the previous year but was actually restored in November 2022 after the platform was acquired by Elon Musk.
Greta Thunberg Interaction
In December 2022, Andrew sent a tweet at environmental activist Greta Thunberg that ended up being widely mocked. In his tweet, Andrew said:
Hello @GretaThunberg
I have 33 cars. My Bugatti has a w16 8.0L quad turbo. My TWO Ferrari 812 competizione have 6.5L v12s. This is just the start. Please provide your email address so I can send a complete list of my car collection and their respective enormous emissions.
Greta sent the following reply several hours later:
yes, please do enlighten me. email me at smalldickenergy@getalife.com
Webcam Business
According to their own account, Andrew and his younger brother Tristan have made millions of dollars operating a webcam business where men reportedly pay $4 a minute to speak with models. The models reportedly have extracted extremely large sums of money from some of the callers by telling sob stories about their lives.
Car Collection
As he implied in his Greta Thunberg tweet, Andrew Tate's car collection is apparently quite large and valuable. It is believed that his collection includes over 20 vehicles… perhaps more than 30 as Andrew implied. From social media posts, Andrew Tate's car collection is known to include the following vehicles:
Bugatti Chiron Pur Sport – Purchased for $5.2 million
Two Ferrari 812 competiziones – estimated at $600,000 a piece
Aston Martin Valhalla – On order, not yet received, but apparently worth $800,000
Two Lamborghinis
Rolls Royce Wraith
McLaren 720s
In January 2023, Romanian police seized several cars from Andrew Tate's car collection. Police sized a McLaren 765LT, a Rolls Royce Wraith, a 2018 Ferrari 812 Superfast S, a 2019 Porsche 911 Carrera 4S, A Lamborghini Aventador SVJ, a BMW X4 coupe, a 2019 Aston Martin Vanquish S, and a Mercedes GLS.
Arrest and Release from Prison
On December 29, 2022, Andrew and his brother Tristan were arrested in Romania on charges that allege human trafficking, rape, and being a member of an organized crime group. On the 31st of March 2023, both Andrew Tate and Tristan Tate were released from prison, awaiting trial under strict house arrest conditions. UPDATE: Andrew tate is currently released from house-arrest